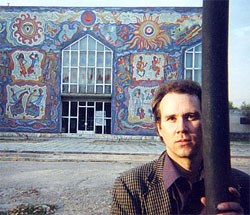 Kevin McCaughey is an English Language teacher and trainer. He brings his interests to the language classroom: music, recording, photography. For teaching material, especially audio, visit English Teachers Everywhere.
On this site, kevinmccaughey.com, you will find the archive of "English Teachers in Russia & Elsewhere," an e-textbook that has been published since 2001, and which provides easy-to-use activities for teachers.
For the 2007-2008 academic year Kevin is a Fulbright Scholar at Minsk State Linguistic University in Belarus.
Education
M.S. in Education (TESOL) from Shenandoah University, Virginia
M.A. in English (Creative Writing) from Miami University, Ohio.
Writing
From 1991-1992, Kevin was the George Bennett Writing Fellow at Phillips Exeter Academy in New Hampshire. Comment: He wrote fairy tales for a year.
Travel writing, fiction, and poetry by Kevin have appeared in twenty journals, including Manoa, Hawaii Review, and Beloit Fiction Journal. His story "Heroes of the Caribbean" appeared in Travelers' Tales The Best Travel Writing 2008.
Music
Kevin records music. He'd like to get into video game music. He also makes custom jingles. (Samples of the above coming soon).
Photography
See the Gallery.